The foothills of the Catalina Mountains north of Tucson, AZ. begins the hour long journey to the top of the hill known as Mt. Lemmon (also spelt as Mt. Lemon, Mount Lemmon and Mount Lemon).
New book on the Catalinas: "Treasures of the Santa Catalina Mountains"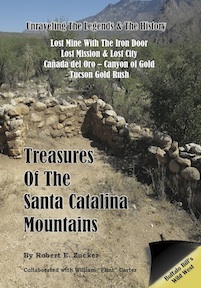 The legends of lost mines, lost cities and a lost mission in the Santa Catalina Mountains, north of Tucson, Arizona have been passed down by word of mouth for generations.
Now, learn the full history behind the legends of the infamous Iron Door Mine, the Mission of Santa Catalina and the Lost City of the Catalinas.
This new book also covers the history of American mining in Oracle and the Catalinas- including the famous Buffalo Bill Cody's mine Campo Bonito.
Read sample chapters and watch videos from the "Treasures of the Santa Catalina Mountains." Purchase copies at a discount on Amazon.com.
Legends of the Catalinas Book Talk on Saturday, January 3 and 10 at 1pm at the Oracle Inn (305 E. American Avenue in Oracle). Meet the authors and talk about the legends. Free. Call 520-623-3733 for more info.
(c) 2006-2015. AZentertain.com All rights reserved.