AZentertain: Arizona Gold Rush: Iron Door Mine: Flint Carter: Jewelry Grade Gold and silver ore in quartz
The Most Expensive Gold in the World
By William "Flint" Carter
Jewelry grade gold and silver ore in quartz attractively visible to the naked eye is every day becoming more valuable due to the modem mass mining techniques. First made popular in the mid 1850s with the California Gold Rush, Tiffany's produced a few rare and extremely valuable pieces. The wearing of a rich natural gold in quartz was a sort of a "Badge of Courage," showing the wealth of the mine owner.
As would be expected, not many were discovered and 1110st pieces were destroyed to extract tbe precious noble metals.
Now only one major source is available in tile U.S. and is sold through The Alaska Mint Fetching upward of 100 times the price of pure gold and silver, this exotic and extremely rare commodity is littie known and beyond the average consumer.
However, with mass mining and most major deposits depleted, the owner has an extremely rare natural specimen that probably will have no competition in the future and has held high human esteem for millennia.
Cody Stone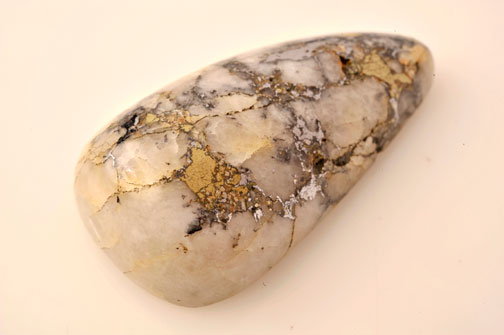 In museums worldwide and The Mining Hall of Fame, this particular deposit was at one time owned by Buffalo Bill Cody and named in his honor.
The modern world is now aware of tile history of the deposit long labeled as fiction, the facts can not be discredited.
One of the first western films in Arizona in 1924, At the Deposit, was redone in 1936 as The Mine With the Iron Door. In 1955, it was redone yet again as The Secret Treasure Mountain, and again in 1968 as McKellna 's Gold.
The facts are that the deposit was mined for over 124 years. Ownership included Hartman and the Rothschilds and was the largest "underground" gold producing mine in tile United States until 2003.
Celebrity Stones is the only accredited source by the Cody Family Association. Only a few hundred pounds have been recovered.
Cody Stone is now the official jewelry of the great American Wild West Show, soon to open at a pennanent location in Branson, Missouri on July 4th.
The Adventure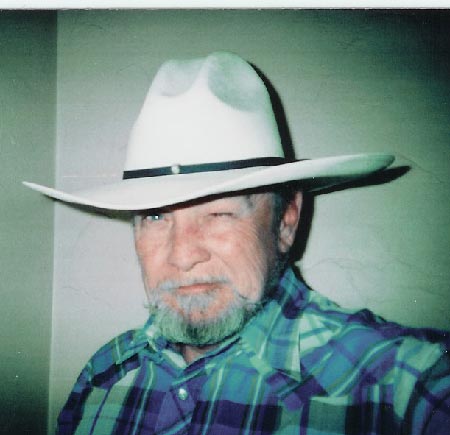 This particular subject is milennia, old and especially pertinent to economic conditions. Gold, silver, lost treasure, Geronimo, Buffalo Bill, as well as over a century of literature, four nmjor motion pictures, and more, awaits the avid enthusiast of gold and its allure.
For almost four decades, I and my friends and associates have lived our pan of the legend, and loved it. If we had been in it for the money, we would have quit long ago. We received more than money can buy. We welcome all to the Canyon of Gold and its legends and its future.
Even if we had funds and more researchers, we need more resources. We need specialized personnel with historic backgrounds. We need researchers to help with our library. We hope to open a musem and study center to produce a fifth motion picture. This would be a combination of the previous four films and our discoveries. One of the treasures is still in the courts valued at six billion dollars.
© 2005-2010 AzEntertain.com/irondoormine EMOL.org. / AZentertain.com / Entertainment Magazine. All rights reserved.
Cody Stone is mined and designed as jewelry grade gold and silver in quartz from the Old West. Cody stone specimens and hand made items are on display at the Oracle Inn Steakhouse & Saloon in Oracle, Arizona. Get a tour of the area, see artifacts of the Iron Door Mine and Southwest, and mine for gold with Flint Carter. The only source for Cody Stone. Call Flint at 520-289-4566. Mention the Iron Door web site.
"Search for the Iron Door" CD
Listen to seven songs and ballads on CD about the Iron Door Mine, the Santa Catalina Mountains, the Old West and Flint Carter. $9.95. Call 520-289-4566 for more information and to purchase directly. Mention the Iron Door web site.
Iron Door Mine Legend Tour
Explore displays of over 1,000 Old West artifacts and specimens from the surrounding area with Flint Carter Mine for gems and learn about Western legends. Call Fint at 520-289-4566. Mention the Iron Door web site.
"MacKenna's Gold" (1969)
Starring Gregory Peck and Omar Sherif
The story of the Iron Door Mine. Attempting to do for Westerns what his Guns of Navarone had done for World War II action epics, director J. Lee Thompson crafted Mackenna's Gold as a lavish, absurdly ambitious variation on Erich Von Stroheim's Greed, resulting in a last-gasp Western so eager to encompass the genre's traditions that it turns into a big, silly, wildly entertaining mess. --Jeff Shannon, Amazon.com.
DVD edition of MacKenna's Gold
. Studio: Sony Pictures. DVD format. Release Date: July 11, 2000. Run Time: 128 minutes.
Poster from Mackenna's Gold - Movie Poster - 11 x 17. This poster measures approx. 11 x 17. Rolled and shipped in a sturdy tube. This poster is from the movie Mackenna's Gold (1969).
Printed book edition of Mackenna's Gold
A Five-time Spur Award-winning Author. Somewhere in 100,000 square miles of wilderness was the fabled Lost Canyon of Gold. With his dying breath, an ancient Apache warrior entrusted Glen Mackenna with the location of the lode that would make any man - or woman - rich beyond their wildest dreams. Halfbreed renegade and captive girl, mercenary soldier and thieving scout - brave or beaten, innocent or evil, they'd sell their very souls to possess Mackenna's gold. --This text refers to the Hardcover edition. Avon Books (Mm) (June 1988).
Watch video on-demand from Amazon.com of MacKenna's Gold
.
The Mine with the Iron Door: A Romance (1936)
Movie Poster from the 1936 film The Mine with the Iron Door - Movie Poster - 11 x 17
Poster for the Mine with the Iron Door movie. Stars Richard Arlen, Ceclia Parker and Henry B. Walthall. Poster measures approx. 11 x 17. Rolled and shipped in a sturdy tube. This poster is from The Mine with the Iron Door (1936).
Printed Edition of The Mine with the Iron Door. (The Collected Works of Harold Bell Wright - 18 Volumes) (Library Binding) Library Binding: 338 pages. Publisher: Classic Publishers, Language: English. ISBN: 158201891X.
Digital CD Edition of Mine with the Iron Door: A Romance, The (CD-ROM Edition)
. The CD-ROM contains 338 pages. Publisher: Classic Books; 1923 edition (December 15, 2007).