AZEntertain.com: AZ Ren Festival
The Arizona Renaissance Festival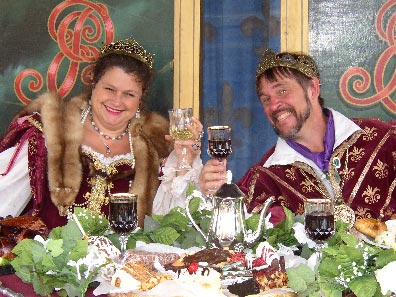 The 2018 Arizona Renaissance Festival will be held February 10th through April 1st, every Saturday and Sunday and Presidents' Day Feb. 19th, Festival runs from 10:00am until 6:00pm, rain or shine. The AZ Ren Fest is also open on Presidents' Day.
The AZ Renaissance Festival is a 30-acre village with the King & his court, castles & cottages, kitchens, pubs, and artisans hawking their wares.
It's hijinks meets history with costumed characters, comedy, music, the new Fairhaven Feast Hall and jousting knights. The AZ Renaissance Festival is one annual event you don't want to miss!


The AZ Renaissance Festival is seven miles east of Apache Junction on US Highway 60.
Parking is FREE
courtesy of Fry's Food and Drug Stores.
This site is not affiliated with the Arizona Renaissance Fesitval or RyalFaires.com.