AZEntertain.com: AZ Ren Festival
The Arizona Renaissance Festival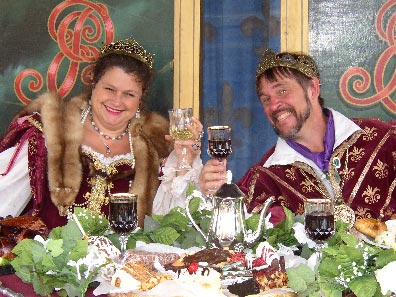 The upcoming 2016 Arizona Renaissance Festival is open every Saturday and Sunday, February 6 through March 27, 2016, from 10:00 a.m. to 6:00 p.m.
The AZ Ren Fest is also open on Presidents' Day.
The AZ Renaissance Festival is a 30-acre village with the King & his court, castles & cottages, kitchens, pubs, and artisans hawking their wares.
It's hijinks meets history with costumed characters, comedy, music, the new Fairhaven Feast Hall and jousting knights. The AZ Renaissance Festival is one annual event you don't want to miss!
DON'T MISS YOUR BEST DAY OUT IN HISTORY
Leave your cares behind as you cheer for brave knights and roam a 30-acre festival village filled with castles, cottages and pubs, and 12 stages of nonstop performances of music, dance and comedy.
Foolish pleasures mix with artisan treasures as you shop, eat, and revel with a cast of nearly 2,000 colorfully costumed characters.
This site is not affiliated with the Arizona Renaissance Fesitval or RyalFaires.com, but has been an information source for a decade. View Weekly User Stats to This Site