AZentertain: Arizona Gold Rush: The Lost City
Map to the Lost City in the Cañada del Oro
---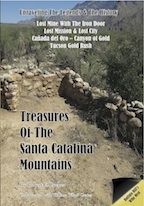 This information is found in the comprehensive book on the legends and history of the Catalina Mountains– "Treasures of the Santa Catalina Mountains." Read more pages and download a free PDF sample of the book.
The best way to search for any treasure first is to use today's technology. Google Maps and Google Earth provide a bird's eye view of the great Santa Catalina Mountains and possible locations to the hidden Iron Door Mine and the fabled Lost City.
---
---
Google spots the signs of a lost civilization
Google maps allows you to zoom within a feet feet of ground level to view trees, rocks, buildings and trails. Most of the area near the Reef of Rocks has not been well explored because of its remoteness. It is a difficult area to reach.
View Larger Map of the Catalina Mountains.
The merging of the East Fork and Canada del Oro rivers is a fertile area that has experienced some human activity.
The legend of the lost city in the Catalinas may be located somewhere in this portion of the mountain range. Zoom into north of Mt. Lemmon which is the peak of the Catalina Mountains. Somewhere near the Reef of Rocks lays the fabled Lost City of the Santa Catalina Mountain